Release Date: September 6, 2016
New York Times Best Seller
Amazon Best Seller
Over 6,000 5-Star Reviews on Amazon
PURCHASE YOUR COPY TODAY!
Also available at these retailers:












en Español

Read a FREE Sample:
*By submitting you agree to receive periodic email updates, special offers, and freebies from Charisma House and its authors. You may unsubscribe at any time. For U.S. residents only.
About the Book
Imagine if you discovered a treasure chest in which were hidden ancient mysteries, revelations from heaven, secrets of the ages, the answers to man's most enduring, age-old questions, and the hidden keys that can transform your life to joy, success, and blessing…This is The Book of Mysteries.

Jonathan Cahn, who caused a national and international stir with the New York Times best-seller The Harbinger and then The Mystery of the Shemitah, now brings us a treasure chest inside of which are contained some of the greatest mysteries of all time. The reader will discover life-transforming secrets, mind-blowing realities, and heart-changing revelations in such mysteries as the Face in the Waters, the Leper King, the Land of Gezarah, the Secret of the Third Prince, the House of Spirits, the Mystery of the Rains, How to Alter Your Past, the Second Scroll, the Similitude, the Mystery of the Eighth Day, and much more. The Book of Mysteries takes the readers on a journey of divine revelation through ancient Scriptures, the laws of Creation, the deep of God's Word, the hidden streams of history, the most important keys of spiritual truth, end-time mysteries, and the secrets of life.
The Book of Mysteries opens up with a traveler and his encounter with a man known only as "the teacher." The teacher takes him an on odyssey through desert mountains, valleys, gardens and plains, encounters with nomadic tent dwellers, caverns and ancient ruins, chambers of scrolls and vessels, and more. The reader is taken along to partake in the journey and in all the teachings and revelations. The traveler keeps a journal in which he writes down each of the mysteries given to him by the teacher in his one-year odyssey—365 different mysteries—one for each day of the year. Thus, on top of everything else, The Book of Mysteries is also a daily devotional unlike any other. And each mystery contains a special mission for each day of the year, a mission that takes the revelation and applies it to reality for a life-changing journey.
Shareables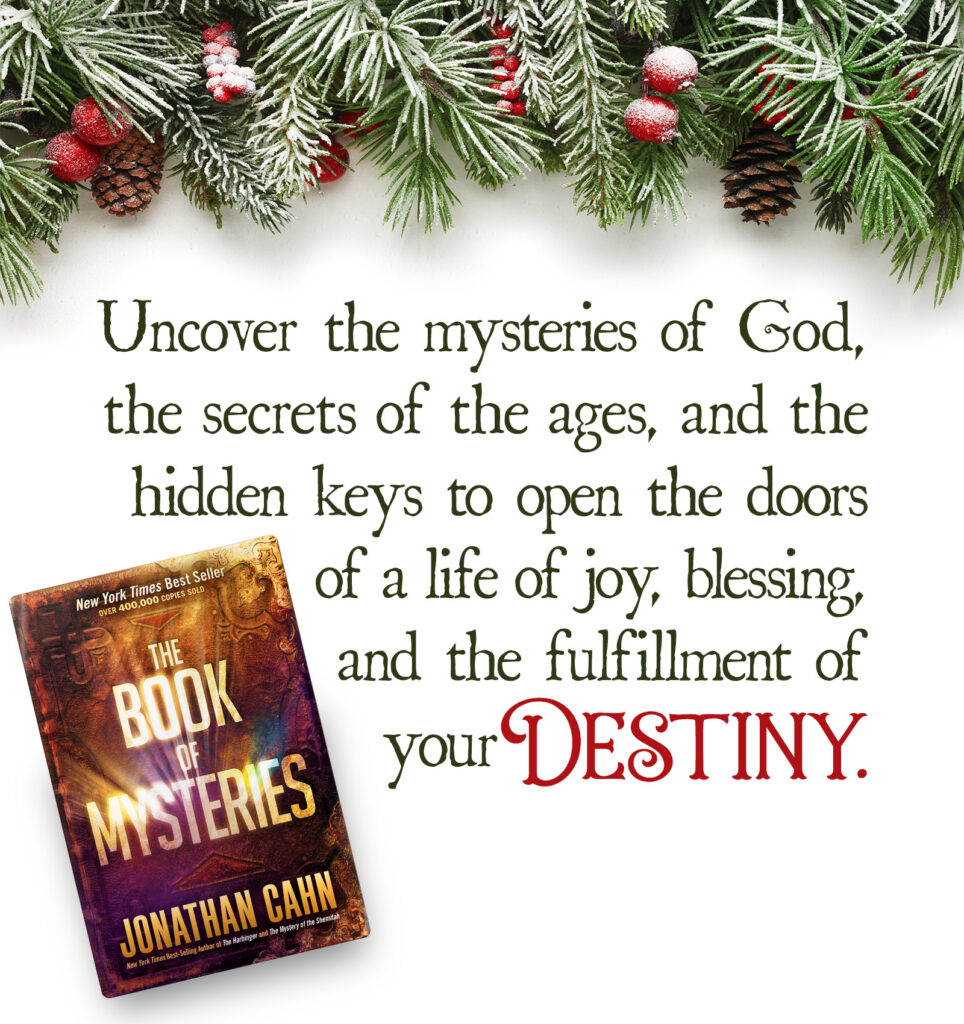 Prayer Journal
Practically apply the daily mission, Scriptures, and insights from The Book of Mysteries to your life.

Created as a companion to The Book of Mysteries by Jonathan Cahn, this prayer journal enhances the reader experience through the amazing mysteries revealed. Record your thoughts and prayers on lined pages that correspond with the 365 mysteries, scriptures, and daily missions shared in the print book—with the most important keys of spiritual truth, end-time mysteries, and secrets of life.
Available for Purchase at these Retailers: